Ultrasonic Thickness Gauge
The light and compact ultrasonic wall thickness gauge SONOWALL 50 enables the precise measurement of the wall thickness of components made of metal, glass, ceramics, and plastics. This efficient ultrasonic device allows the measurement of materials with both flat and curved surfaces. The wall thickness gauge enables the quick and simple detection of the first signs of wear and corrosion, for example, on ships, storage tanks, pipelines and cranes etc.
Stable measurement output
Integrated data logger
Integrated calibration block
TECHNICAL DATA

GENERAL DATA
Highly accurate wall thickness measurement on flat and curved surfaces
The SONOWALL 50 features a highly accurate data read out and a large measurement range. An integrated data logger and its user-friendly operation make the device ready for a wide variety of applications. The included software is a convenient tool to store and evaluate the measurements.
The SONOSCAN Probe SW 5-22  for the SONOWALL 50 has been specifically designed for the measurement of wall thicknesses of pipes with small diameters. The integrated guidance system guarantees the stable coupling at curved pipe surfaces.
DUAL FUNCTION PROBE
Quickly change between curved and flat top surface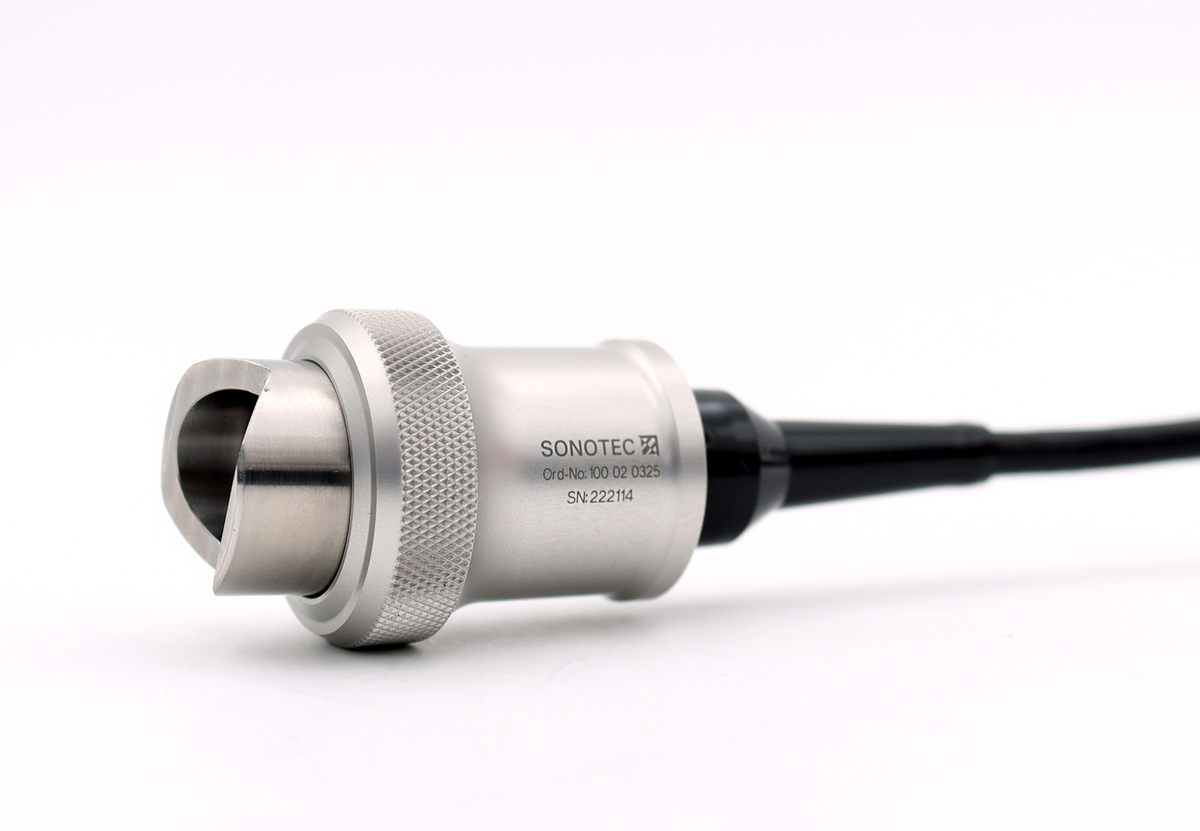 More Ultrasonic Probes
SW5-21 (0.8 mm ... 250 mm in steel)
SW5-22 (0.8 mm ... 250 mm in steel)
SW2-21 (6 mm ... 400 mm in steel)
SW2-23 for thick plastics and composites (Measuring range depending on material)
General Data
| | |
| --- | --- |
| Measurement Range | 0.8 mm ... 400 mm in steel (depending on type of ultrasonic probe) |
| Sound Velocity | 1 000 m/s to 10 000 m/s |
| Resolution | 0.01 mm (0.001 ") |
| Ambient Temperature | -10 °C ... +50 °C |
| Storage Temperature | -20 °C ... +50 °C |
| Display | Illuminated display (128 px x 64 px) |
| Test Block | Stainless steel (9 mm), integrated Connections |
| Power Supply | 2 x LR6 I AA - primary cell |
| Operating Time | 40 hours (without light) |
| Data Logger | Max. 10 000 readings |
| Dimensions (L x W x H) | 128 mm x 80 mm x 28 mm (manufacturer independent) |
| Weight | 260 g |
| Protection Class | Gauge: IP65 Probe: IP67 |
| Protection Classs | 2 independant gates (including automatic positioning) Gate 3+4 only available in multilayer mode |
| Software | For convenient evaluation of the measurement results |